Photonen 25-th Anniversary:
Final Concerts on
Sat 26 & Sun 27 November 2022


Da Pacem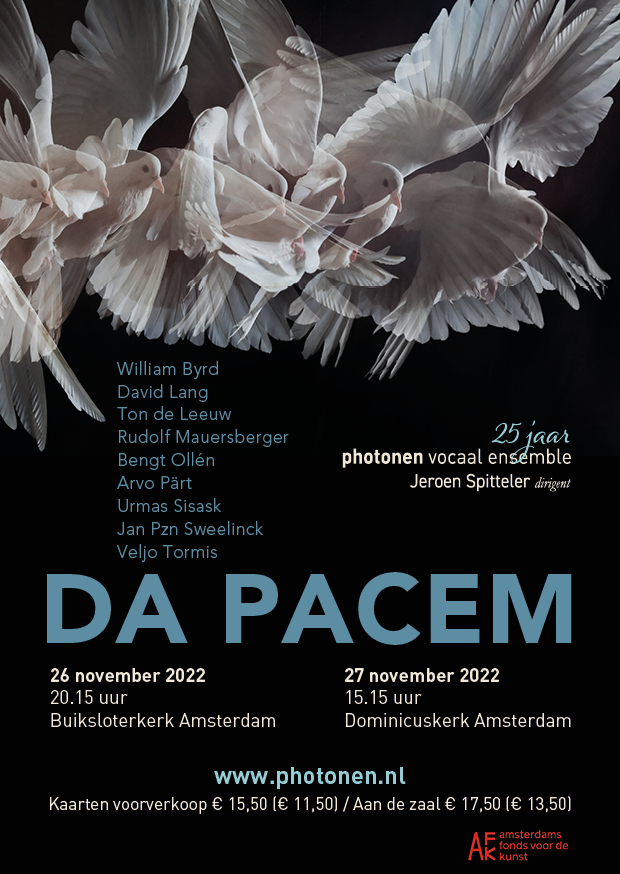 Full e-flyer (Dutch) can be found and downloaded here.
Photonen Vocaal Ensemble finalizes its 25th anniversary series with two concerts with Da Pacem, a varied a cappella programme, dedicated to peace, with early and contemporary choir music by Mauersberger, Pärt, Sisask, Sweelinck, and William Byrd. The core of the programme consists of Tormis' Curse upon Iron and For Love is Strong by David Lang.
Besides reprising the choir's favourites, Photonen sings a work new to the choir: Da Pacem Domine by Arvo Pärt. Intense choral singing and shamanic drum sounds in Estonian composer Veljo Tormis's Curse upon Iron, based on the Finnish epic Kalevala, avert the evil of iron. As a contast there is a sheer hypnotizing series of metaphors from the Song of Songs that resonate in David Lang's For Love is Strong, which Photonen premiered in the Netherlands in 2016. Photonen has a special bond with David Lang's music, known by a larger audience since another composition featured in the movie La grande bellezza.
Furthermore on the programme is the beautiful, poignant motet Wie liegt die Stadt so wüst by Rudolf Mauersberger, the Kyrie and Agnus Dei from the Four-part Mass by renaissance composer William Byrd, and the same Mass excerpts of the Missa Brevis by the contemporary Dutch composer Ton de Leeuw, the latter having a modern yet sometimes medieval touch.
Downright joyful are Urmas Sisask's swinging, syncopic hymn Benedictio and Psalm 33, Resveillez vous chacun fidele for eight voices, by 17th century Dutch composer Jan Pzn Sweelinck. In addition there will be several antiphons from the Magificat Antiphons by Arvo Pärt and the subtle folk song Trilo, in a setting by Swedish composer Bengt Ollén, in which wives are singing at the shore, longing for the return of their fishermen husbands.
Soloists in Curse upon Iron: Gerard van Vuuren, tenor and Miles Yucht, bas.
– Arvo Pärt – 7 Magnificat-Antiphonen (selection)
– Arvo Pärt – Da Pacem Domine
– William Byrd – Mass for Four Voices (Kyrie en Agnus Dei)
– Ton de Leeuw – Missa Brevis (Kyrie en Agnus Dei)
– Jan Pzn Sweelinck – Psalm 33 Resveillez vous chacun fidele
– Rudolf Mauersberger – Wie liegt die Stadt so wüst
– Urmas Sisask – Benedictio
– Veljo Tormis – Raua needmine (Curse upon Iron)
– David Lang – For Love is Strong (After The Song of Songs)
– Bengt Ollén – Trilo
Saturday 26 November 2022 – 8.15 pm Buiksloterkerk, Buiksloterkerkpad 10, 1034 VZ Amsterdam (lovely monumental church in Amsterdam-Noord)
Sunday 27 November 2022 – 3.15 pm – Dominicuskerk, Spuistraat 12, 1012 TS Amsterdam (at walking distance from Amsterdam Central Railway Station)
Admission: There are no additional handling or other fees
Regular: Online presale € 15,50 / At the venue € 17,50
Discount (CJP/student/stadspas green dot):
Online presale € 11,50 / At the venue € 13,50
Child (up to 13 years): Online presale and at the venue € 10
Presale ends the evening before the concerts: online presale prices will convert to venue tariffs automatically at 11.59 pm on the evening before the chosen concert date.
---
Photonen 25-th Anniversary Concert on
Sun 3 July 2022 – Rossini & Fauré:
Une plus Petite Messe Solennelle by Rossini & choral works by Fauré
This year Photonen celebrates its 25th anniversary! The second concert within the anniversary programme series focuses on Rossini's festive Solemn Mass and fine compositions by Fauré for choir and piano.
On Sunday 3 July 2022, Photonen will sing the Petite Messe Solennelle by Gioachino Rossini (1792-1868) in an arrangement by Jeroen Spitteler, for piano, chamber orchestra, chamber choir and two soloists. In this – slightly abridged – version, the choir has a somewhat larger role. Rossini, who became especially famous for his virtuoso, comic 'buffa' bel canto operas, described this brilliant work as his 'last sin of old age'. Although he provided witty remarks on the score, it was a genuinely devout work. A 'little solemn mass', repeatedly unmistakably reminiscent of Bach, and of opera.
Furthermore, a short opening programme with three works by Gabriel Fauré (1845-1924) who composed them for choir and piano: his well-known and widely beloved Cantique de Jean Racine (the first choral piece he wrote, and for which he immediately won a prize), the exciting Les Djinns about teasing spirits and demons during a storm, and Madrigal (op. 35), a teasing and lyrical love duet between young men and women, that Fauré wrote for a former student, a close friend who was getting married.
Rossini was born and became successfull in Italy, yet lived much of his life in France and in later life settled finally in Paris, where he also wrote the Petite Messe Solennelle. Born in the South of France, Gabriel Fauré went to study in 1854 at the École Niedermeyer in Paris, a new conservatory where he went to study at the age of nine with Louis Niedermeyer himself. This composer and ambitious and innovative teacher was a friend to, and had collaborated with, Rossini.
Featuring renowned pianist Femke de Graaf, two vocal soloists and chamber orchestra.
Soloists:
Ingrid Nugteren, soprano
Elsbeth Gerritsen, alto
Sunday 3 July 2022 – 3.15 pm – Dominicuskerk, Spuistraat 12, 1012 TS Amsterdam
At walking distance from Amsterdam Central Railway Station.
---
Photonen 25-th Anniversary Concerts on
Sat 23 April & Sun 24 April 2022 – Programme LUX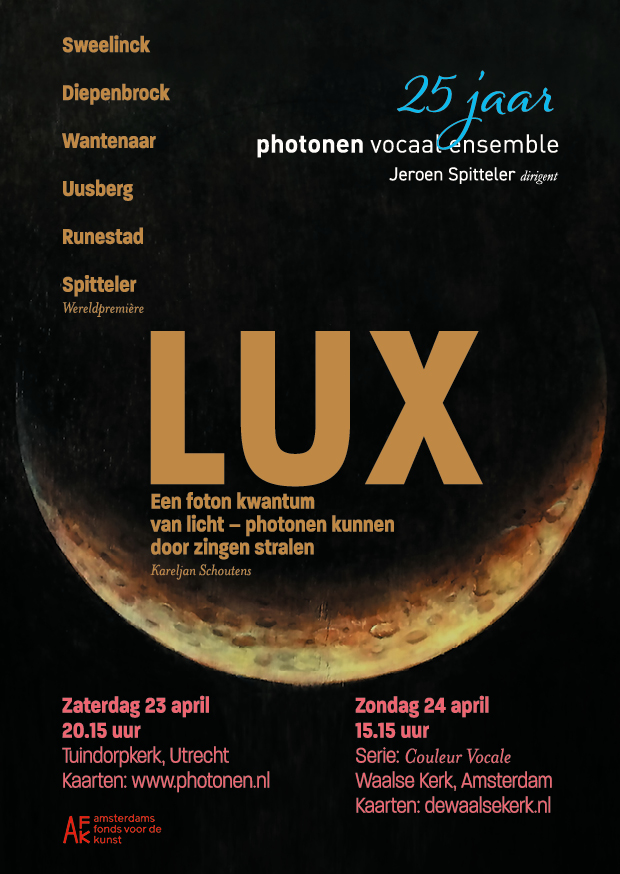 This year Photonen celebrates its 25th anniversary! The first concert within the anniversary programme focuses on the theme of Light, a theme that is very relevant to Photonen. What's in a name…
LUX. Photons. Light. Especially hopeful light.
In the a cappella programme LUX Photonen performs early music as well as (brand-new) choral compositions. Such as These are the pale, pale-light weeks (Dit zijn de bleeke, de bleeklichte weken) by the young, versatile and price winning, composer Mathilde Wantenaar, who wrote this contemplative, sensitive piece to a poem by renowned poet Herman Gorter, for the Groot Omroepkoor. It is now being sung by our chamber choir. On the programme also the late romantic Dämmerung (Twilight – text by Goethe) by composer Alphons Diepenbrock.
A major piece is the monumental and festive Te Deum by Jan Pzn Sweelinck. The 400th death anniversary of this Dutch composer, well known in all of Europe and once called the Orpheus of Amsterdam, was commemorated last year. Photonen will also perform Psalm 42 – Ainsi qu'on oit le cerf bruire (As pants the heart), in which dramatic turns and subtle dissonant chords remind one of a madrigal.
Jeroen Spitteler was commissioned by Photonen to write a new work on the occasion of the ensemble's 25th anniversary: this resulted in The Moon was but a Chin of Gold/Onder die Maan, in which a poem by Emily Dickinson and diary fragments by Etty Hillesum are joined and complement each other (World Premiere). Photonen will also perform Spitteler's compositions Oorsprong (text by Juhan Liiv) and Kennst Du das Land wo die Zitronen blühn, a new setting of Goethe's melancholic text.
Light shines in a special way in the music of the American composer Jake Runestad, of whom Photonen will perform Let my Love be heard, and in Muusika and Õhtu Ilu by Estonian composer Pärt Uusberg. James MacMillan's beautiful O radiant dawn and Lux aeterna do enhance the LUX programme in a wonderful way.
Saturday 23 April 2022 – 8.15 pm
Tuindorpkerk, Professor Suringarlaan 1, 3571 WH Utrecht
Sunday 24 april 2022 – 3.15 pm
Waalse Kerk, Walenpleintje 157-159, 1012 JZ Amsterdam


---
Photonen Tote
On the occasion of its 25-year anniversary, Photonen had a canvas tote printed in a limited edition. On it is our logo and the haiku about Photonen (Dutch). The sturdy bag with a relatively wide bottom is available during concert intermissions and after the concerts for € 10,-. By bying it you support Photonen, and in the meantime will acquire a trendy shopping tote.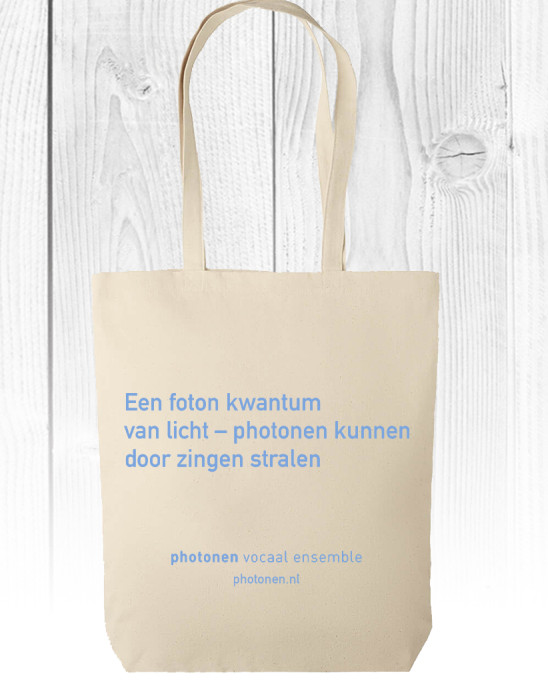 ---
Friday March 25th 2022
Joint concert Photonen & Utrechts Kamerkoor: 'Van Dom tot Dam'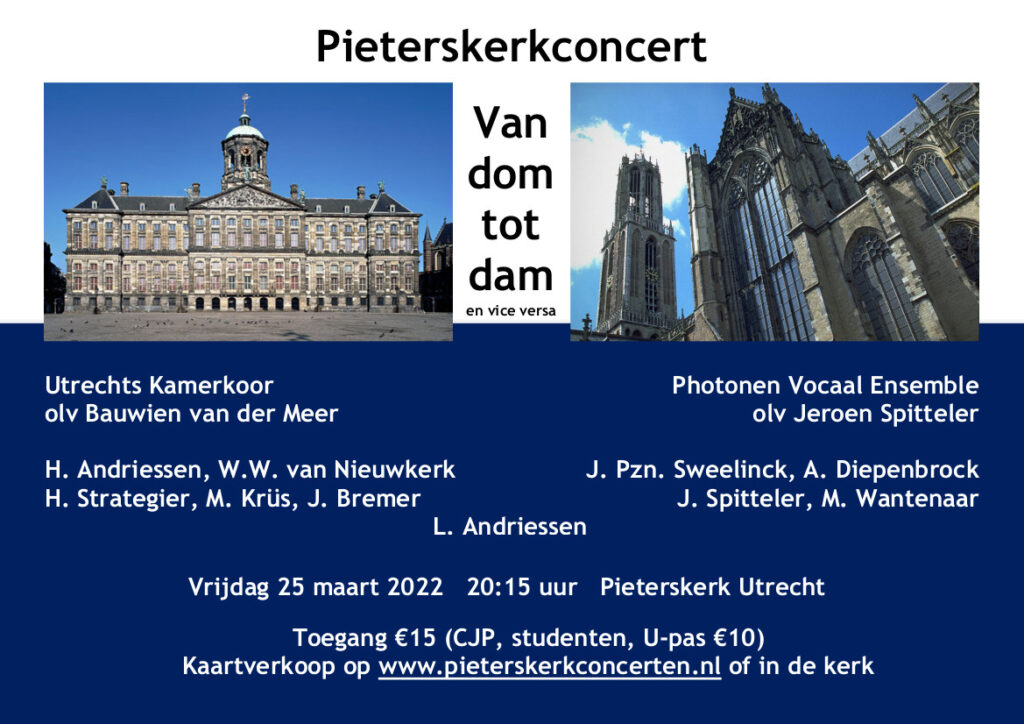 The Utrecht Chamber Choir (UKK) and its conductor Bauwien van der Meer and Photonen and its conductor Jeroen Spitteler sang a joint concert programme 'Van Dom tot Dam' in the Pieterskerk concerts series in Utrecht. Each choir sang part of the program, led by its own conductor: early and contemporary music, religious as well as secular, and nearly all Dutch composers. Mainly works by composers that do have some kind of link to the choirs' 'own' city: either Amsterdam or Utrecht.
Photonen performed works by 'Amsterdam' composers, such as the Cantique de Simeon by Jan Pzn Sweelinck, the late romantic Dämmerung by Alphons Diepenbrock, to lyrics by Goethe, and These are the pale, pale weeks by the young composer Mathilde Wantenaar. Visitors can enjoy the diptych Muusika/Origin (Oorsprong), by Pärt Uusberg and Jeroen Spitteler respectively.
The Utrecht chamber choir (UKK) will sang a fully contemporary programme with choral music by 'Utrecht' based composers, such as two canzoni by Hendrik Andriessen: Stornello and Sento nel Core, in which love is an important theme and the cheerful Les Compagnons de la Marjolaine by Herman Strategier. Going through Utrecht (Utrecht door) by Jetse Bremer is rightfully called 'Utrechtian'. Willem Wander van Nieuwkerk added a sacred element with Jacob's Hymn. Monique Krüs wrote Thinking of Holland (Denkend aan Holland) to the famous lyrics by the poet Hendrik Marsman. Its character has been beautifully captured in the music.
Both choirs joined their forces in Un beau baiser by Louis Andriessen, a short composition that Photonen performed earlier in the Dutch tv-series Klem.
Friday 25 March 2022 – 8.15 pm Pieterskerk, Utrecht


One and only concert date: 19 December 2021
CANCELED due to new COVID regulations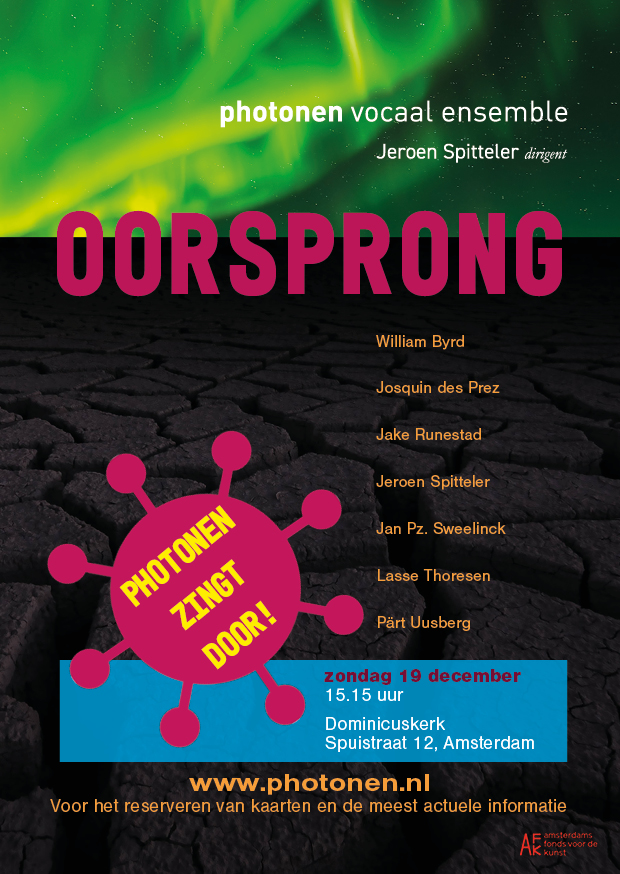 Photonen vocal ensemble conducted by Jeroen Spitteler will sing a rich a cappella programme with Renaissance polyphony and contemporary music.
Please take a look at or downoad the concert flyer (in Dutch).
Due to new Covid regulations the concert scheduled for Sunday 19 December cannot take place.
Those who acquired tickets already will be informed by e-mail next week, on how to proceed.
Kindly stay tuned to our website, to get the latest news, e.g. on our 2022 programme.
Another possibility is to subscribe to the Newsletter.
We wish you a merry Chistmas and a splendid 2022!
———————-
Wonderful music by the famous Dutch master of Polyphony who is commemorated this year: Jan Pzn Sweelinck. Photonen sings his relatively unknown Cantique de Simeon, the fine Psalm 42 Ainsi qu'on oit le cerf bruire (As pants the hart) for 8 voices, and the first part of the festive Te Deum laudamus.
Photonen also pays tribute to the young Estonian composer Pärt Uusberg by performing Muusika and the musical answer that Jeroen Spitteler wrote: Oorsprong (Origin), which premiered online last year. Both works are based on a poem by Juhan Liiv, in which the poet searches for the origin of music.
Furthermore, harmonious sounds by the American Jake Runestad and the Norwegian composer Lasse Thoresen. Photonen is pleased to bring another premiere: Goethe's layered text, permeated with melancholy and longing, inspired Jeroen Spitteler to create new music to Kennst du das Land wo die Zitronen blühn?
The Mass for 4 Voices by William Byrd, a jewel of English choral music, meanders through the programme.
Programme (in random sequence):
Pärt Uusberg (1986)
– Muusika
– Õhtu ilu (The Beauty of the Evening)

Jeroen Spitteler (1970)
– Oorsprong (Origin)
– Kennst du das Land wo die Zitronen blühn? (Première)

Jake Runestad (1986) – Let my love be heard
Lasse Thoresen (1949) – Einige die Herzen
William Byrd (1543-1623) – Mass for 4 voices
Jan Pzn Sweelinck (1562-1621)
– Cantique de Simeon
– Te Deum laudamus
– Psalm 42 Ainsi qu'on oit le cerf bruire (As pants the heart)
Saturday 18 December 2021 – 8.15 pm – Dominicuskerk, Spuistraat 12, 1012 TS Amsterdam

Sunday 19 December 2021 – 3.15 pm – Dominicuskerk, Spuistraat 12, 1012 TS Amsterdam
Get your tickets via this button:


Please note that Covid-entry regulations (QR-code + id) do apply.
This concert will last approximately one hour, there will be no break.
There is a limited amount of tickets due to the 1,5 meter regulation.
You are requested to wear a face mask until seated.
Admission:
Regular: € 15 online / € 17 at the venue
Discount: (CJP, students, stadspas groene stip) € 10 online / € 12 at the venue
Youngsters up to 15: € 7 online / € 8 at the venue
---
Vacancies
Photonen has vacancies for a low alto, a tenor and a bass. Info can be found here (in Dutch).

---
Canceled once more:

Vocaal Mozaïek – design by Lisette Schenkels
Photonen picks up the musical thread with 'Vocal Mosaic – picking up the pieces', a soothing a cappella programme of approximately an hour. Photonen opts for beautiful Renaissance sounds by Josquin des Prez and William Byrd, and is happy to share with you Psalm 42 for double choir by renowned Dutch composer Sweelinck, which has continued to inspire the choir in recent times.
Photonen supplements this vocal 'mosaic' with contemporary music such as Oorsprong ('Origin'), a subtle composition by Jeroen Spitteler, that premiered online on May 1st 2020. Photonen is looking forward to finally being able to sing it to you in person, in a diptych with Pärt Uusberg's Muusika.

Compositions by a.o. Byrd, Josquin des Prez, Sweelinck, Uusberg, Spitteler.
Programme:
William Byrd – Mass for 4 voices
Josquin des Prez – Ave Maria Virgo serena
Diptych Muusika-Oorsprong:
Pärt Uusberg – Muusika
Jeroen Spitteler – Oorsprong
Lasse Thoresen – Einige die Herzen deiner Diener
Pärt Uusberg – Õhtu ilu (The beauty of the Evening)
J.P. Sweelinck – Psalm 42 – Ainsi qu'on oit le cerf bruire (As pants the hart)

---
2020/2021 Developments
Photonen's choir journey to Ireland, planned for April 2020, in order to visit and perform with Dublin based choir Cuore, has been postponed. In the meantime all of our choir members dearly miss singing together, and are waiting for better times to arrive. Our conductor Jeroen Spitteler wrote a fine new composition 'Oorsprong' ('Origin'), which now premiered by means of a virtual choir, consisting of Photonen and UVE members. The result can be seen here.
Our 13 June 2020 concert in Durgerdam has been cancelled, as have concerts in November 2020, March and June 2021. The first concerts planned will take place in 18 & 19 December 2021.
Please stay tuned to our website, take a look at our Newsletter (Dutch), or Subscribe!
---
December 2019: A celebration of Carols and Christmas songs
Throughout countries, languages ​​and times, Christmas time has inspired many composers to write catchy music. Photonen sang both known, lesser known and even completely new repertoire. Works by Victoria, Pärt, Howells and Poulenc. Also a Dutch premiere of La mare de Déu by young Catalan composer Pol Requesens Roca.
Part of the programme was accompanied by organist David Jansen. The audience was invited to sing along several famous Christmas songs with us.
This concert took place in the context of choir series Couleur Vocale (CV), organized by the Waalse Kerk.
Saturday, December 21, 2019 – 8:15 p.m. – De Waalse Kerk, Waalenpleintje 157-159, 1012 JZ Amsterdam
Tickets at the venue and online * via the Waalse Kerk: www.dewaalsekerk.nl/agenda
Admission: € 18.50 / € 16.00 *
CJP / student /Amsterdam stadspas green dot: € 16.00 / € 13.50 *
friend / choir member of choir participating in CV: € 11.00 * (online only)
up to 16 years: € 8.50 (only at the door)
---
November 2019: Rachmaninov's All-night Vigil
Concert programme with Utrechts Vocaal Ensemble.
Also works by Pärt, Kreek, Duruflé.
Together with the UVE, Photonen performed two concerts with, among others, the Vespers by Sergej Rachmaninov.
After the first performance of the Vespers in 1915, the enthusiasm of the public was so immense that additional concerts were added immediately. With the Vespers, Rachmaninov created a classical masterpiece for choir in the early 20th century. It is directly inspired by the long sung nightly Easter vigil of the Orthodox liturgy that heralds the resurrection festival. Rachmaninov used the hymns from the Russian church but also created innovative sounds by bringing together music from the Eastern and Western tradition. He combined all this into an hour of music that sounds both monumental and tranquil, both melancholic and festive.
The combined forces of the Utrechts Vocaal Ensemble and of Photonen Vocaal Ensemble from Amsterdam, directed both by Jeroen Spitteler, guarantee unforgettable performances. In addition, both ensembles will present themselves briefly with their own varied program, with music by, among others, Pärt, Kreek, Holst and Duruflé.
Soloists: Maria de Moel (mezzo-soprano) and Maarten Stevens (tenor)
Saturday 2 November 8:15 pm Nicolaïkerk, Utrecht Tickets
Sunday 3 November 3:30 pm Dominicuskerk Amsterdam Tickets
---
May 2019: Regina!
May 2019 Photonen performed a varied and festive concert programme dedicated to the virgin Mary.
The central piece is Concerto per la beata vergine by the Belgian composer Vic Nees, with an important oboe solo. Also on the programme will be the beautful and serene Salve Regina by Poulenc, and Salve Regina / To the mothers in Brazil by Larsson/Eriksson.
Tavener wrote Mother of God, Here I Stand, an iconic piece echoing the orthodox world to which he felt connected. Jeroen Spitteler composed The May Magnificat, a subtle piece for women's choir, to a poem by Gerard Hopkins Manley (1844-1889).
The Ave Maria by Victoria for 8 voices presents fine polyphonic splendor and contrast to the pensive Ave, Generosa by Hildegard von Bingen.
Rachmaninov's Concert for choir gets us back to the 19th/20th century.
With a oboe soloist in our midst we cannot omit Ennio Morricone's theme song of the movie The Mission: Gabriel's oboe.
Soloist is award winning oboe player Samuel Agustín Aguirre.
A short documentary about Samuel can be viewed here.

Concerts:
Friday 17 May 2019 – 8:15 pm – Pieterskerk, Pieterskerkhof 3, Utrecht
Sunday 19 May 2019 –3:15 pm – Dominicuskerk, Spuistraat 12, Amsterdam
Both venues are located at walking distance from NS Central Station in Utrecht and Amsterdam respectively.
Admission at both venues:
At the venue € 16 regular / € 12 discount
Online € 15 regular / € 10 discount
Discount applies to CJP/student/U-pas in Utrecht/Stadspas with green dot in Amsterdam
Fall 2018: Edge of Eternity
In the weekend of November 3rd/4th 2018 Photonen performed its programme Edge of Eternity, an a capella concert programme relating to All Souls' Day, putting Victoria's wonderful polyphonic Officium Defunctorum (6-part Requiem mass) from 1603 centre stage, also presenting romantic works by Reger and Rheinberger, and more recent compositions by David Lang and Ēriks Ešenvalds.
Saturday 3rd November 2018 – 8:15 pm – Engelse Kerk, Begijnhof 48, 1012 WV Amsterdam
Sunday 4th November 2018 – 3:30 pm – Buiksloterkerk, Buiksloterkerkpad 10, 1034 VZ Amsterdam-Noord
---
April 2018: Songs from the New World
Sunday 15 April 2018 / Oud-Katholieke Gertrudiskerk, Willemsplantsoen 2, 3511 LA Utrecht
Songs from the New World. 4 pm – 5 pm.
Saturday 21 april 2018 / Waalse Kerk, Walenpleintje 159, 1012 JZ Amsterdam
Songs from the New World. 8:15 pm. This concert is part of the choir series Couleur Vocale (linked info in Dutch). This concert has a a pause.
On 'Songs from the New World'
Photonen invites you to a fine and balanced a cappella programme with choral music from the United States, composed in the 20th and 21st century.
North America has a vibrant choral tradition, and Photonen will perform a.o. several works by great masters of American choral music, such as Aaron Copland, whose Four motets are a highlight in American choral history, which the young Copland wrote in 1921 while studying with Nadia Boulanger in Paris, and Samuel Barber's To be sung on the water, which adds a beautiful, pensive touch to the programme.
In the last decades, composers have enriched the repertoire considerably, such as Eric Whitacre. Photonen performs Three Flower Songs. Ola Gjeilo, born in Norway but living in the US for quite some time now, composed the lively Unicornis Captivatur to an intriguing, late medieval fairytale-like monastic text, and the meditative Northern Lights.
In the US spirituals are an important source of inspiration. Photonen presents several of them in exciting arrangements by Ken Burton. Especially for this programme Jeroen Spitteler wrote I know Moon-rise, an arrangement for baritone solo and choir of the melancholical spiritual also known as Lay this body down. This same spiritual inspired composer David Lang to write Oh Graveyard.
Full programme:
Aaron Copland (1900-1990); Four motets
– Help us, O Lord
– Thou, O Jehovah, abideth forever (Amsterdam concert only)
– Have mercy on Us, O my Lord
– Sing ye praises to our King
Samuel Barber (1910-1981): To be sung on the water
Ola Gjeilo (1978): Unicornis Captivatur
Ola Gjeilo: Northern Lights (Amsterdam concert only)

Eric Whitacre (1970): Three Flower Songs
– I hide myself
– With a lily in your hand
– Go, lovely rose
Stephen Paulus (1949-2014): The road home
Spirituals:
Jeroen Spitteler (1970): I know moon-rise (Lay this body down) – Premiere
David Lang (1957): Oh Graveyard (Lay this body down)
Ken Burton (1970): Steal away to Jesus
Ken Burton: Put on the armour of the Lord
Photonen vocal ensemble conducted by Jeroen Spitteler will sing a rich a cappella programme with renaissance polyphony and fine contemporary music.
December 2017: Vespers for the Blessed Virgin – Claudio Monteverdi
Photonen vocal ensemble performed Monteverdi's Vespro della beata Vergine (1610) on Sunday 10 December in the Dominicuskerk in Amsterdam. A choral performance with renowned soloists, accompanied by Photonen Project Orchestra.
Pious church goers of the early 17th c. probably did not believe their ears, when they heard the mind blowing music of the Vespers for the Blessed Virgin by Claudio Monteverdi for the first time. Monteverdi had created an absolutely revolutionary work, a compositon that changed religious music profoundly and permanently. The vespers introduced an unprecendented theatrical approach to liturgical music, unheard of at the time. Numerous styles and special effects alternate, from the cheering fanfare at the beginning to the use of echoes in the Audi coelum. At the same time, the work was deeply rooted in church tradition: as a basis for its structure, Monteverdi chose the ancient Psalm songs from the Gregorian liturgy, with lyrics in Latin.
The Vespro della Beata Vergine, as the composition is called in Italian, was a breathtaking experience in 1610. And it still is.
Musicologist Wout Strootman gave a a short introduction (in Dutch).
Photonen is an Amsterdam based chamber choir of about 26 seasoned choir singers. Twice a year it offers varied programs at the highest possible artistic level. The choir featured in the TV series 'Klem' that was broadcast on Dutch television in spring 2017. Photonen was founded in 1996, and Jeroen Spitteler has been its conductor ever since.
Sunday, December 10th, 2017 – 3:15 p.m.
Dominicuskerk, Spuistraat 12, 1012 TS, Amsterdam
Performers:
Photonen Vocal Ensemble / Photonen Project Orchestra with conductor Jeroen Spitteler.
Soloists:
Heleen Koele, Ingrid Nugteren soprano
Steven van Gils, Gerben Houba, Maarten Stevens tenor
Admission:
Tickets: at the door € 25 / online presale € 22,50
Students / Stadspas with green dot: at the door € 17,50 / online presale € 15
Children under 16: € 5
For online pre-sale with discount look here. A small handling fee does apply.
Presale ends on Friday December 8th.
Dominicuskerk is situated in the city centre of Amsterdam, close to Amsterdam Central train station.
June 2017: 'Driekorenconcert' (Three choir concert)

Photonen vocal ensemble closes this season with a 'Driekorenconcert' (Three choir concert) together with Utrechts Vocaal Ensemble, both ensembles are conducted by Jeroen Spitteler, and renowned Kammerchor Manila from the Filipines and now on tour in Europe with its conductor Anthony Villanueva.
Programme 'Driekorenconcert':
Photonen
Guerrero Ego flos campi
Jeroen Spitteler Bloem der bloemen
J.P. Sweelinck Canticum

Utrechts Vocaal Ensemble (UVE)
Tchaikovsky Cherubic Hymn no. 3
Vytautas Miškinis Angelis suis Deus
Put on the armour of the Lord (spiritual)
Nobody knows (spiritual)
Together Photonen and UVE will perform: Samuel Barber's Agnus dei
Kammerchor Manila
Claudio Monteverdi Zefiro torna e'l bel tempo rimena
Z. Randall Stroope We Beheld Once Again the Stars
Eudenice Palaruan Pasigin (Filipino folk song)
Moses Hogan Elijah Rock (spiritual)
Nilo Alcala Kaisa-isa Niyan (Filipino ethnic song)
Kammerchor Manila from the Filipines, conductor Anthony G. Villanueva, originated as a church choir and is celebrating its 25th anniversary this year. It recently performed a special programme Argentum on several occasions througout the Filipines. The choir is now on its 4the tour in Europe, visiting seven countries. Kammerchor Manila won many prizes and received honours in festivals and competitions, among which in 2014 in Olomouc (Czech Republic) the 'Absolute Winner Award' in the Lied-competition. Kammerchor Manila is a versatile and enthusiastic choir, consisting of ca 30 dedicated and partially professionally trained singers. It has its own distinct 'sound' and colourful presentation, and performs all kinds of styles, from early music to pop ballads. Recent tour info can be found here.
Wednesday 28th June 2017 – 8 p.m. – De Krijtberg, Singel 446, 1017AV Amsterdam
---
March 2017 : Moving Music
Do you hear the music when you watch a film? Everyone knows the famous theme tune of Star Wars, but how about the moment in The Hobbit when the dwarves sing of Misty Mountains and gold?
Perhaps you don't always notice how the music makes you feel, swelling into the spaces between the words and telling its own story.
Photonen, the choir featured in the 2017 Dutch television series KLEM, is putting this 'Moving Music' centre stage in a performance on Sunday 26th March, at 15.15 in the Waalse Kerk, Amsterdam. The Waalse Kerk ('Walloon Church' – a national heritage site) is located in the heart of the city.
The chamber choir of around 26 experienced amateur choral singers has chosen classical and popular music including Dry your tears, Africa by Oscar-winning composer John Williams, I Lie by David Lang, from arthouse film La Grande Bellezza, music from KLEM' including Trois chansons by Debussy, and a piece written specially for the choir, Hondsdagen/Dogdays by Martijn Voorvelt – music that is just waiting to find its film.
The concert also includes Samuel Barber's Agnus Dei — featured in films including The Elephant Man and Platoon — the widely-recognised Wagner's Bridal Chorus from Lohengrin (think of Bridget Jones's Diary), and Star Wars – John Williams is the Man, with John Williams' music arranged by Mister Tim.
Come, listen, and let your own images play in your head!
Sunday 26th March 2017 – 3:15 p.m.
Waalse Kerk, Walenpleintje 157-159, Amsterdam
Programme:
Claude Debussy – Trois Chansons (Klem)
L. Andriessen – Un beau baiser (Klem)
Josquin des Prez – Mille regretz (Klem)
John Tavener – The Lamb (La grande bellezza)
Gregorio Allegri – Miserere (Angela's ashes / Maurice / Face off)
David Lang – I lie (La grande bellezza)
Samuel Barber – Agnus Dei (The elephant man / Platoon / Les roseaux sauvages / Lorenzo's oil)
Howard Shore – Misty mountains (The Hobbit)
R. Wagner – Hochzeitsmarsch from Lohengrin (28 Days, Bridget Jones' Diary, Out of Africa, and many other movies)
Martijn Voorvelt – Hondsdagen / Dogdays
John Williams arr. Mister Tim – Star Wars – John Williams is the man
John Williams – Dry your tears, Afrika (Amistad)